2017 CCNU Scholarship(for excellent new students) Application Notice
ⅠApplication Timeline
From 2017-04-26 to 2017-05-25
Ⅱ Applicants
New overseas students (bachelor students, master students and doctorate students studying in CCNU since September,2017)
Old students cannot apply for the scholarships.
Ⅲ Types of the Scholarships
1.CCNUS scholarship (offering all tuition fee; bachelor students:2; master students:2;doctorate students:2)
2.CCNU Scholarship (offering 50% tuition fee; bachelor students:8; master students:6; doctorate students:6)
3. CCNU Distinguished Student Scholarship (offering funding of RMB 2000---8000; total number: 44)
l All CCNU scholarships do not cover accommodation fees and living expenses.
l Anyone who successfully gets the scholarship should be accessed again in the next spring to ensure whether he/she can get the scholarship once more.
Ⅳ. Application Materials
1. Scholarship application form (downloaded from the website)
2. Photocopy of passport
3. Certificate of language proficiency(such as HSK)
4. Transcript
5. Other certificates
6. Two recommendations letters
7. Study plan
Ⅴ. Application Procedures
1. Register on the website of isao.ccnu.edu.cn, then enter the webpage of application, and click CCNU Scholarship.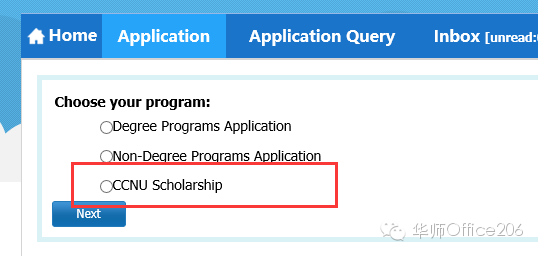 2. Fill out the online application form step by step and submit the form online.
3. Download the application form and then submit all the required documents to Office 204.
Ⅵ. About the result
CCNU scholarships will be accessed every two weeks from June 15th and the result will be informed by email, on the website of is.ccnu.edu.cn and Office206 wechat
Ⅶ. Contact information
Address: Office 204, College of International Cultural Exchange
Tel: 67865209
Email:cice@mail.ccnu.edu.cn