Prof. Lin Rongguang brought the essence of traditional Chinese painting to international students.
5th, June afternoon, Mr. Lin Rongguang, foreign liberal art expert invited by our university, taught foreign students a wonderful traditional Chinese painting class, and lead them to havea taste of the profound and magical traditional Chinese painting.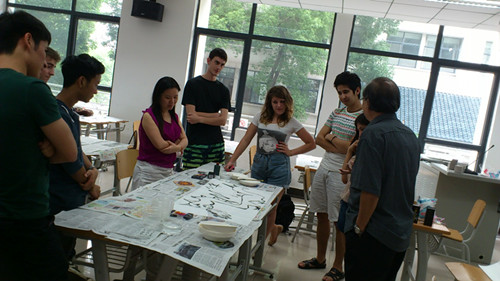 Other than teaching them the theory in class at the beginning, Prof. Lin believed that let the students paint by themself will make them more concentrated andhelp them understand the beauty of Chinese paintings faster. So, Mr. Lin selectThe 12 Chinese zodiac in traditional Chinese culture as the topic and let the international students draw out Chinese horoscope of their own. The atmosphereof the class was peace and harmony, the students' enthusiasm and Mr. Lin's vivid explanation and instruction, various lovely and funny animals appeared under their brushes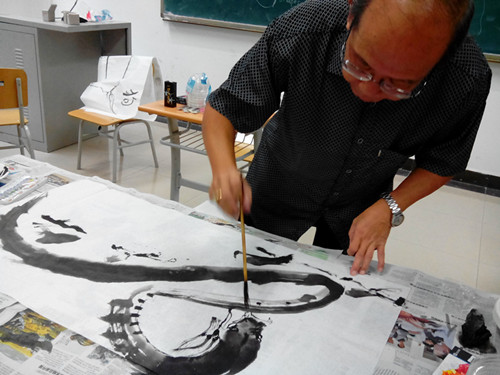 The 20 year old KaiZwettler from Germany was volunteer of UNESCO. He indicated that he neverthrough that he would learn so much simply in 2 hours before the class, Mr. Lin started explaining Chinese painting skills and artistic conception from prospects of Ru, Shi, Dao, which made him have a primary understanding of Chinese philosophy and aesthetics. In addition, he added that he completed the entireworks with lines when drawing, when it came to Mr. Lin's turn, he seemed to bedaubing casually on the paper, then drew the outline and expression of the animals with a few sketches, this made him surprised about magic of Chinese painting.
Mr. Lin said that he wassharing "Xie Yi" in artistic creation with international students. "Xie Yi" is distillationof realism, it differs from western artistic creation and appreciation view. "XieYi" focuses more on intuition, nature and freedom but less on skills, so "XieYi painting mostly swings between real and unreal, they leave audiences many imaginary spaces and add blear beauty.
Mr. Lin has devoted himself in Chinese artfor many years. He distills essence sedulously from Chinese traditions, and combines ancient and modern art. It can be said to distill Zeitgeist from the old inkpainting technique